Earlier today I was researching Snail Mail on the internet to find some cool facts for you guys. But, as always, I got distracted and started thinking about something totally different.
I started to think about the future and if I'd carry on doing Snail Mail. Then I started to think what other countries I would like to write to.
And that's when I thought, I wonder if its possible to write to children around the world who are living in poverty? I've always sent things to children in Europe who are living in poverty at Christmas, through the shoe box appeal, but is it possible to write to them on a more regular basis?
I have no idea if this is possible but I'd love to do it. I just think such a small thing can bring so much hope to children who currently have nothing and I'd love to be part of it.
So I wanted to ask if anyone knew if this was possible?
You can sponsor a child through
www.worldvision.org
and write to them that way. However I just don't have enough money to sponsor someone each month sadly.
I will keep searching to see if it is possible but any suggestions are greatly appreciated.
Thank you
www.operationchristmaschild.org.uk
- More information about the shoebox appeal.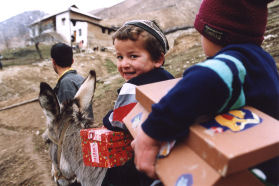 (The shoebox appeal)